How to setup IPTV on Smart IPTV
This tutorial will guide you through the simple setup instruction for a Samsung/LG Smart TV. You can use NOWIPTV service with the app called "Smart IPTV''.
This app is free to use for a period of 7 days and after that you will then be asked to make a one time donation of € 5.49 (Euros) towards the Smart IPTV app development.
In order to check if your Samsung or LG Smart TV is compatible with the NOWIPTV Service go to the Samsung or LG Smart TV screen and search for the "Smart IPTV" app. If the app is not displayed on the main screen you may have to search for it in "All Apps" or "Updates".
Launch the "Smart IPTV" app on your TV.
Write down the MAC address which is displayed on the screen.
Open a browser from your computer and go to http://siptv.eu/mylist/
In the input text "Mac:" enter your Mac address.
In the input text "URL:" paste the m3u line given to your email. If you don't have any, you can order a package from here and we will send you the line.
If you have any problems with the playlist loading you can place a check in the 'Keep online' checkbox.
Click on 'I'm not a robot' spam protection.
Click onto the "Upload" button.
Close the Smart IPTV app on your TV and open it again.
In order to view channel groups, press the blue button on your remote control.
Now you can watch your favorite channels on your device. Enjoy!
Important notice: this product doesn't work properly with a big playlist of streams and if you really wish to use, you have to send us request to remove the VOD package.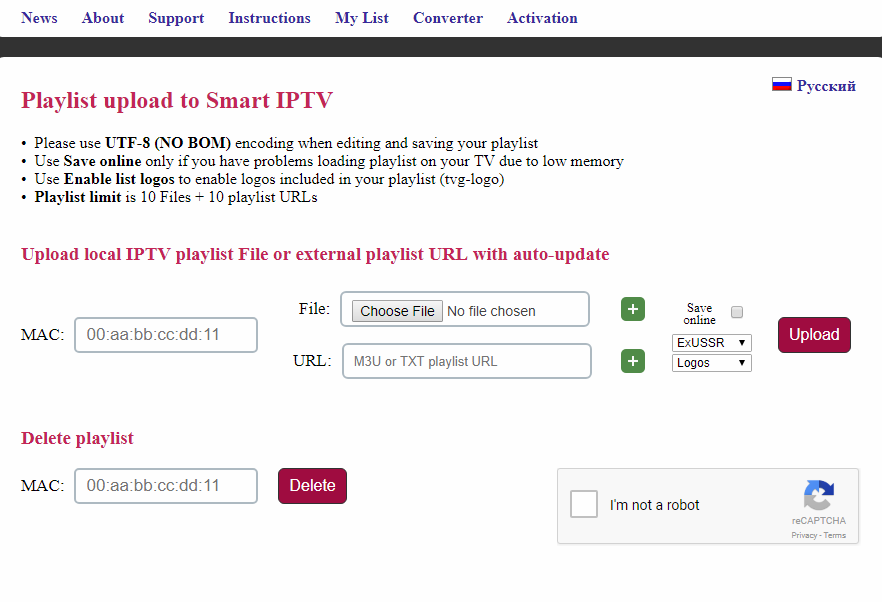 Important notice!
After you install the app it is free to use for only 7 days after that you need to buy this app for 5,49EUR/lifetime.
Go to http://siptv.eu/activation/ and activate for lifetime.
If you use this application for the first time and you're 7 days trial has been expired, when you purchase the application, you have to re-upload the m3u line.